Professional Basement Waterproofing
When it comes to your basement, it is important to ensure it is kept dry, safe, and healthy. Doing this can help to ensure that your home's structural integrity stays intact, and it can also help to prevent additional problems in and around your home. Our team can help determine where the water comes into your home if you have a wet basement. Normally water can enter your basement in various ways, including over the top of the foundation, through the cove joint, through wall or floor cracks, and many more places. In other instances, a wet basement may mean you have an existing plumbing issue. Our experts can install a basement waterproofing system in your home to help stop any water seepage in your basement.
A wet basement can cause a lot of expensive damage to your home, including wood rot and mold growth near the floor joists. Having moisture issues and rotting wood doesn't only endanger the structural integrity of your home, but it can also provide a breeding ground for pests like termites and roaches. Solving these moisture issues in your basement can be important to both the safety of your home and your health. Mold and mildew growth can cause a variety of serious health problems. These issues can all be avoided by installing an effective basement waterproofing system in your home to help keep it moisture-free.
How Does Water Seep Into Your Basement?
When you see water on your basement floor or walls, it isn't always easy to tell where it is coming from. Although it may appear to be entering through your floor, the actual source of the leak may come from several different sources. Water will take the path of least resistance, meaning the water in your basement won't come directly through the floor.
The five most common sources of basement leaks are the cove joint, windows, wall cracks, floor cracks, and over the top of the foundation. In all these cases, the water entering the home has come from run-off that has seeped into the ground and found its way into the basement. Because of this, water that has leaked into your basement once will likely enter again from the same spot. Our experts are trained to identify these problem points and provide you with adequate basement waterproofing systems to solve these issues.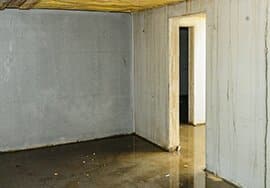 Our Basement Waterproofing Systems
We offer solutions for wet basements in the interior and exterior basement waterproofing systems. These two systems differ because one is installed inside your home and is usually less intrusive to your property. In contrast, most external systems require excavation of the ground around the exterior of your home to be installed. When considering the best basement waterproofing system, our experts consider the severity of your basement issues and will work within your budget to provide you with the best solution.
Almost all basement leaks can be solved with interior basement waterproofing systems, and our experts will always recommend that an internal system be installed on the home when possible.
Interior Basement Waterproofing Systems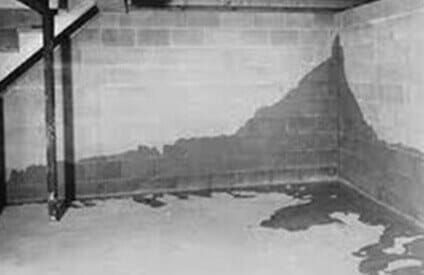 Our interior basement waterproofing systems are designed to capture any water entering your home before it becomes a problem and direct it away from your home. These systems often include the installation of drain tile, sealing wall or floor cracks, and installing a sump pump system to protect your basement from leaks completely.
Exterior Basement Waterproofing Systems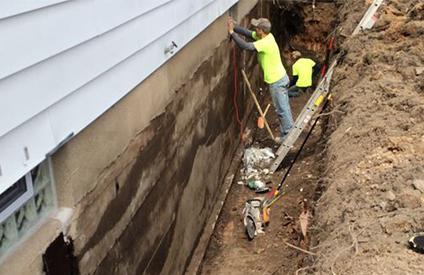 Exterior basement waterproofing systems are usually installed during the home's construction or after the ground around the home has been excavated. These systems include the installation of a waterproof membrane around the home's foundation that stops the water before it enters any cracks in your foundation.
Contact Our Basement Waterproofing Experts
If you have noticed any water in your basement or any of the problems above, don't hesitate to contact us online or call our experts at 410-934-1319 to schedule a meeting with one of our experts.