Are the floors in your home uneven? Sagging floors in homes with crawl spaces is a common issue that our experts see. These issues tend to occur when the support beams of your home are exposed to moisture in the crawl space. When this happens, most companies will suggest that you replace the floor beams, which is both very expensive and time-consuming. Our Maryland Basement and Crawl Space Waterproofing team can fix your sagging floors permanently for a reasonable cost. We use high-quality floor jacking systems to raise and support your support beams where they are sinking.
What Causes Sagging Floors
Sagging floors are caused by excess moisture in your crawl space. Excess moisture in your crawl space saturates the wooden beams supporting your home, causing them to become weak and begin sagging. Your floors may likely be sagging even if you cannot see that they are uneven.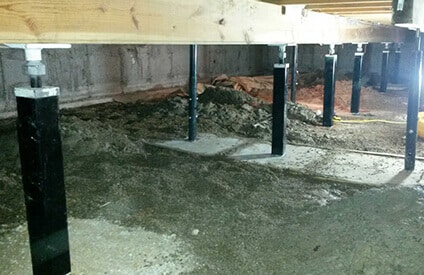 How To Identify Sagging Floors
Sagging floors in your home may be hard to spot at times. Our experts typically recommend a simple test to see if your floors have become uneven. By placing a marble or pencil on the floor, you can test to see if you have sagging floors by checking to see if the object rolls away in any direction.
How We Fix Sagging Floors
Our Maryland Basement and Crawl Space Waterproofing team uses a patented system of crawl space support jacks designed to withstand the weight of an entire home. These support jacks are installed in your crawl space in areas where the support beams are sagging. Once installed, the support jacks are raised to level your home and permanently support any sagging beams.
It is important to note that having crawl space supports installed will not completely solve the issue. We often recommend a crawl space encapsulation system along with crawl space supports to stop any other beams from becoming damaged.
Contact Our Experts For Sagging Floor Repair
If you have noticed any of the problems above, contact our experts online or call 410-934-1319 immediately to schedule an inspection and sagging floor repair services.