A crack in your basement wall can be a serious issue. It points to signs that you are experiencing foundation settlement issues that must be corrected immediately. Several issues, including hydrostatic pressure and foundation settlement, can cause foundation wall cracks. They cause structural and waterproofing issues with your home, as any crack in your foundation can let water in. Our Maryland Basement and Crawl Space Waterproofing team has the experience to identify and repair these issues quickly and efficiently.
Since cracking can indicate foundation sinking, installing foundation piers can restore the foundation and stop the cracks from growing. Our team also seals basement cracks with a strong carbon fiber reinforcement that will both strengthen the walls and keep water from entering your basement through the crack.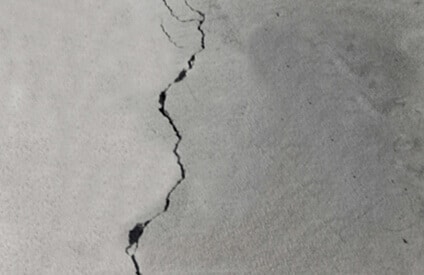 Our Wall Crack Repair Process
Our experts start every wall crack repair with an inspection to assess the extent and cause of the damage. We provide homeowners with fast and effective crack repair services right when they need them most. A basement wall or floor crack can appear as either a gap in the wall or a small damp spot from smaller hairline cracks. Our experts have years of experience diagnosing and identifying wall cracks and can help you keep peace of mind when you need repairs. Contact us today to schedule an inspection and estimate on wall crack repair in central Maryland.
Carbon Fiber Wall Crack Repair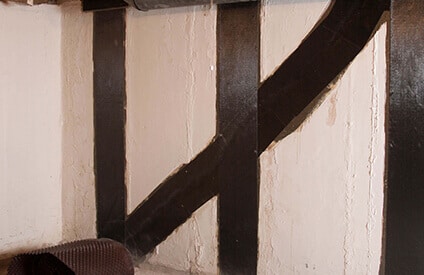 Our team uses a patented carbon fiber wall crack repair process to seal and strengthen the areas where your wall has cracked. The process involves placing a carbon fiber strip directly over the crack and applying a patented epoxy sealant. Once dry, the carbon fiber supports any forces trying to make the crack larger and stops water from entering your basement.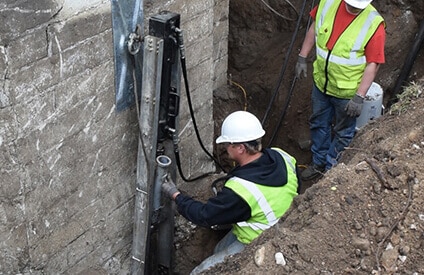 Sometimes wall cracks can appear as a sign of foundation settlement. Our team can install foundation piers to stop any foundation settlement and raise your home back to the proper level. Our foundation piers are driven deep into the ground to find stronger support material for your home's foundation.
Contact Our Experts For Foundation Repair Services